Part Time

Year Round

Food & Beverage
What makes The Fernie Hotel & Pub awesome? Our classic pub food!
Celebrating 21 years in business, we have always offered quality pub food in a relaxing environment. We define ourselves as your neighborhood sports pub, we are big community supporters and proudly part of the Parastone Team of Companies.
You'll find steady year round work in our newly renovated pub and kitchen. The Fernie Hotel & Pub offers a clean and safe working environment, with a strong team of people both front of house and back of house.
DISHWASHER POSITIONS AVAILABLE – Part and Full Time
With flexible hours and a wicked cool kitchen and bar staff, you're guaranteed to have a good time while doing the dishes. Don't worry, it's not all scrub and dish pit, we'll have to unpack our food orders, help with prepping (chopping, slicing and dicing), we'll teach you how to use the deep fryer and even work the line if you're interested.
An excellent job for high-school students, works lots in the summer and take one or two shifts during your school year.
Like to bike and float the river during the day? We can work with you to give you night shifts, which is typically when we require a dishwasher.
Each shift you'll receive a staff meal (yum)! We offer discounts at The Tipple Craft Beer Wine Spirit shop too (for those 19+). A uniform is provided so you don't get your clothes all grubby, and staff accommodation options are available. We also give bi-monthly tip outs to add to your wage!
Send your resume into whowse@parastone.ca or stop in and speak to our kitchen managers Aaron & Jordan.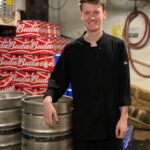 Location
691 1st Ave, PO Box 1899, Fernie, V0B1M0
Salary
$16/hr