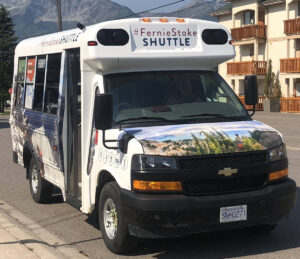 Passionate about the Elk Valley? Want to work for an exciting company with growth opportunities? Look no further! Tunnel49 is expanding and seeking part-time/full-time Fernie Stoke Shuttle drivers living in Fernie.
As a Tunnel49 Stoke Shuttle Driver, you'll be part of a team of adventure seekers and transportation experts. We offer driver training assistance as required and help with the examination process, ensuring you have the necessary qualifications.
You will receive a winter season pass for Fernie Alpine Resort, you can design a schedule that suits you, and you will be embedded within the community, interacting with tourists and locals daily. 
The Fernie Stoke Shuttle runs 9:00 am – 11:00 pm daily. Our shifts are flexible and suit a busy lifestyle; whether that is juggling other work or your family commitments. We are offering eight-hour shifts or a split shift at four hours a day. You can work full-time (40 hours per week) or more casually with us. 
Responsibilities
Provide a professional and safe experience for the passengers.

Collect bus tickets accurately.

Make safety the top priority while delivering exceptional customer service, obeying traffic laws and ensuring the passengers' safety.

Maintaining the inside of the vehicle clean.

This position requires dependable individuals who are reliable and responsible.

Applicants must have excellent customer service skills and be able to interact professionally with our guests.
Qualifications
Must live in Fernie

Class 2 or 4 Driver's Licence

Have a clean driver's abstract
What we offer
Winter season pass for Fernie Alpine Resort.

Room for growth within our expanding company.

Join Tunnel49's team of transportation experts and start your adventure today! Apply now to become a part of our friendly and dynamic team, delivering unforgettable experiences in the beautiful landscapes of the Elk Valley.
Salary: $22.50 
Location
802 BC-3, Fernie, Vob 1M0
Salary
$22.50 per hour