Part Time

Summer

Health & Wellness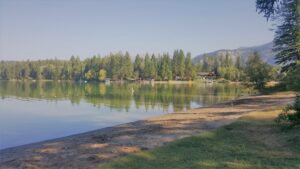 Mountain Kids Swim Lessons is seeking experienced Swim Instructors to teach outdoors at Tie Lake public swimming area, near Jaffray BC. Started in 2020 by Sarah Laverick, I offered private swim lessons 3 days a week, for 6 weeks over July and August. I was booked solid every day and there is even more demand for lessons this year! I am seeking 1-2 instructors to join me in teaching private 30-minute lessons for 1-2 swimmers (from the same family or bubble), aged 3 years and over. Lessons are offered 4 days a week for 8 weeks; from June 27 – July 21 (with 9 days off to rest/go camping in the middle), then August 1st – 25th. Hours TBC, approx. 4 hours a day.
Job Description:
Your role is to provide the best possible Swim Lessons you can, to the most awesome kids around. A large number of kids in our local communities do not have access to swim lessons for various reasons and many do not have basic swim skills, but they all spent time around the lakes. Mountain Kids Swim Lessons wants to change that by providing lessons right there at the lake, while being able to focus on the safety skills needed to swim confidently in an open water environment. Your goal is to share the joy and freedom of learning to swim, while teaching the fundamental swim skills needed to improve endurance, motor coordination development and confidence. You will be responsible for the safety of your swimmers at all times.
The ideal instructor will have:
Experience working with children (and love it!)
Experience working as a Swim Instructor (Canadian Red Cross WSI preferred)
Priority given to qualified National Lifeguards (for Insurance reasons)
Standard First Aid with CPR-C required (or willing to obtain prior)
Clean vulnerable sector criminal record check and strong references
Reliable vehicle for own transportation, always on time
Willingness to work within COVID guidelines and promote safety
A great fit for Mountain Kids Swim Lessons is someone who is patient, kind and fun, as well as safe and responsible. They will be excited to get in the water (even if it's cold that day), be engaging to all different kinds of kids, be encouraging and supportive, and most of all be dedicated to establishing trust and respect with swimmers from day one. You will be provided with training in advance, as well as lesson plan guides, progressions, games and familiarization with the lake environment (via Zoom and at the lake in June).
Salary Range: $24-$28/hr depending on experience (plus paid breaks, vacation pay and travel allowance)
For more information or to apply, please email Sarah Laverick at mountainkids.swimlessons@gmail.com, along with your CV/Resume, copy of qualifications and a short description of yourself and why you think you would be a good fit for Mountain Kids Swim Lessons. Many thanks!
Location
Tie Lake, Jaffray, V0B1T0
Salary
$24-$28/hour dependent on experience (plus paid breaks, vacation pay and travel allowance)
Apply Now