Love adventure? Passionate about the Elk Valley? Want to work for an exciting company with growth opportunities? Look no further! Tunnel49 is expanding and seeking part-time/full-time drivers in Fernie.
As a Tunnel49 driver, you'll be part of a team of adventure seekers and transportation experts. We offer driver training assistance as required and help with the examination process, ensuring you have the necessary qualifications.
Responsibilities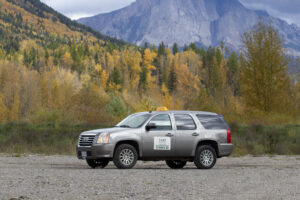 Provide a professional and safe taxi experience for our guests.
Collect fares accurately and keep them safe.
Make safety the top priority while delivering exceptional customer service, obeying traffic laws and ensuring the passengers' safety.
Maintaining the inside of the vehicle clean.
Make use of your geographical knowledge of the Elk Valley and southern Alberta, covering destinations from Kimberley, BC to Calgary, AB.
This position requires dependable individuals who are reliable and responsible.
Applicants must have excellent customer service skills and be able to interact professionally with our guests.
Qualifications
Must live in Fernie
Class 2 or 4 Driver's Licence
Have a clean driver's abstract
What we offer
Competitive compensation: on-call rate, commission, and tips. Your wage will reflect your experience.
Room for growth within our expanding company.
Join Tunnel49's team of transportation experts and start your adventure today! Apply now to become a part of our friendly and dynamic team, delivering unforgettable experiences in the beautiful landscapes of the Elk Valley.
Job Types: Part-time, Full-time
Salary: From $17.00 per hour
Benefits:
Flexible schedule
On-site parking
Schedule:
Evening shift
Holidays
Monday to Friday
Night shift
On call
Weekends as needed
Supplemental pay types:b
Ability to commute/relocate:
Fernie, BC V0B 1M0: reliably commute or plan to relocate before starting work (required)
Location
802 BC-3 #100, Fernie, V0B 1M0
Salary
$17.00 per hour + Tips