If you're looking for a unique seasonal work opportunity in a spectacular mountain setting, look no further than Island Lake Lodge in Fernie, BC.
"Come work for us this summer!" says HR and Payroll Coordinator Christina Fraser. "We're hiring for everything: gatekeepers, concierge, dishwashers, chefs, everything."
She's not kidding. At time of posting, the Work in Fernie job board currently has ten openings for positions at Island Lake Lodge, including Massage Therapist, Chef de Partie, Housekeepers, and Sales & Event Coordinator.
In the summer season, the staff at Island Lake Lodge expands from around thirty year-round employees to approximately eighty. This number rises to ninety in the winter season, when Island Lake Lodge is known for world-class catskiing, being also one of the first cat skiing operations to open in Canada.
Many seasonal employees return year after year, but as Fraser says, "this year we're looking at expanding the family this summer."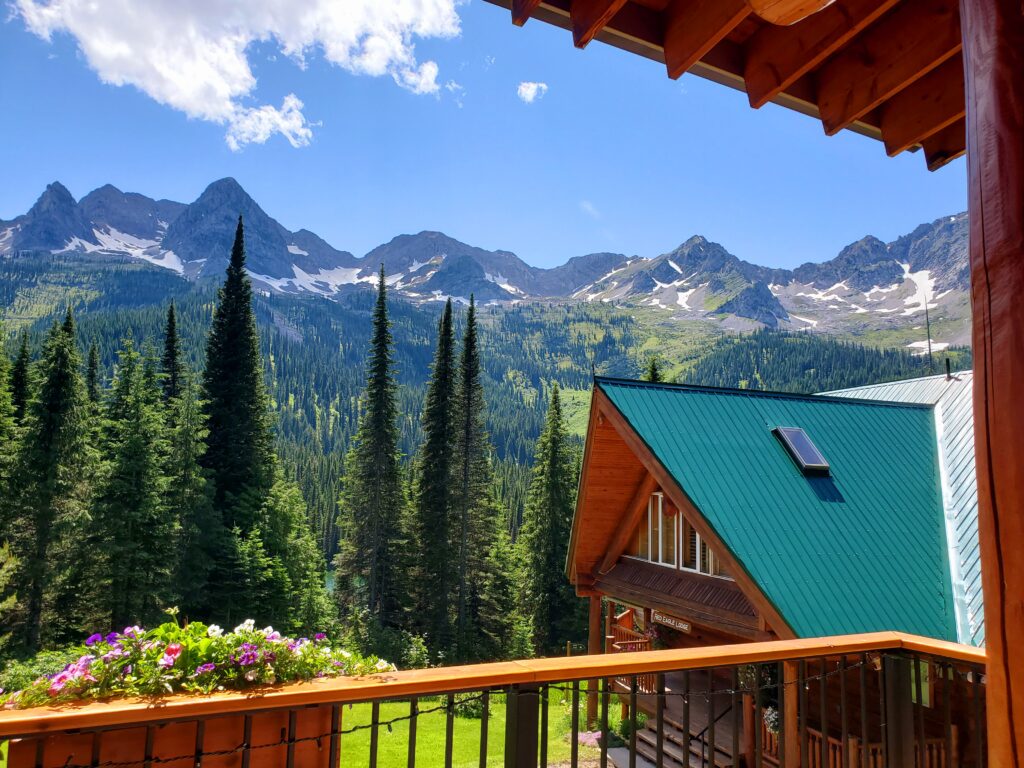 What Makes Island Lake Lodge a Great Place to Work?
There's something special about working at Island Lake Lodge, as those employees marking 15 and 20 year work anniversaries can attest to. Beyond the remarkable natural beauty of the location – who wouldn't want to work among 800-year-old Cedar, Spruce, and Douglas Fir trees, overlooking mountain views of the Three Bears peaks – Fraser says the loyalty to Island Lake has much to do with fostering value and connection with the staff.
"We offer staff meals from our kitchen," says Fraser. "There are pro deals and staff discounts, and we encourage them to stay at the lodge, and enjoy discounts on cat skiing in the winter."
"A lot goes into keeping our staff happy and making sure they know we value them and that they're part of our family because it's such a small area up there but everybody who works there is interconnected and we want them to know that they're appreciated."
Island Lake Lodge is also a place that is enthusiastically embraced by the Fernie community. It is known by locals for its hiking trails, mountain views, cat skiing, as well as five-star dining, all available in their own backyard.
"We get a lot of locals up hiking and then they come down to our Bear Deck and have lunch or a beer afterwards," Fraser says.
Tips for Applying to Island Lake Lodge
Resumes and cover letters for applications to Island Lake Lodge go directly to Fraser, who then reviews the documents before assessing whether or not to pass the application on to the appropriate manager for the next steps.

Here are her tips and suggestions for applying to work at Island Lake Lodge.
Include your commitment to past positions
Fraser favours applicants who show longer-term employment at past positions. "When I look at a resume, I like to see commitment, like how long the candidate stays in jobs. If they bounce around a lot – one month here, two months there – they're all over the place, well, then they're not going to stick around for us."

Island Lake Lodge prefers to have staff return season after season. Retention is important and highly valued because it is also part of the experience for returning guests.

"People come back year after year for the foundation of Island Lake, how it started, as it's been around for thirty years, and there are a lot of stories on how it began," says Fraser. "The staff is part of the lodge experience."


Show that you are located in Fernie (or will be, soon)
One of the first things Fraser looks for on a resume is the inclusion of a Fernie address. She needs to know that the applicant is located in Fernie or will be moving there soon (and has housing secured).

"Housing is hard to get here," she says. "I need to know you have a place to live here, or else I can't consider you for the position".


Bring your outgoing personality to the interview
Many positions at Island Lake Lodge are public-facing in a hospitality setting, so confidence in conversation is key. Fraser looks for outgoing personalities, and people who are easy to talk to.

"If I have to draw out responses from the person during the interview to get them to speak, then it will probably be difficult for our guests to talk to them," Fraser says. Put your nerves aside and let your enthusiasm shine.
Apply For Island Lake Lodge Jobs Today!
As Fraser and her team prepare for the Summer 2021 season, the timing for applying to work at Island Lake Lodge couldn't be better. There are several positions at Island Lake Lodge open, and plenty of reasons why it could be the perfect fit for you. Find yourself surrounded by beautiful mountain views and the richness of Old Growth forest, working within a close-knit team, in one of Fernie's most renowned destinations for hiking, cat skiing, and more. Apply to work at Island Lake Lodge today!